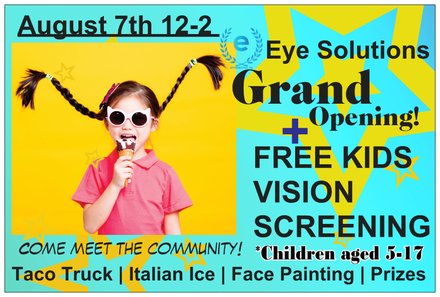 ***UPDATE: GRAND OPENING WILL CONTINUE AS SCHEDULED. WE EXPECT LIGHT SHOWERS BUT WE WILL HAVE A TARP READY TO USE ABOVE THE AMPHITHEATER TO KEEP YOU DRY. ALL FOOD AND ACTIVITIES VENDORS HAVE CONFIRMED. THERE 17 RAFFLE PRIZES NOT INCLUDING THE BIGGEST PRIZE FOR ADULTS AND FOR THE KIDS. SEE YOU SOON!


As we continue our soft opening, we were amazed of how friendly the community is and fell in love with the aesthetics of Cary. So for that, we wanted our Grand opening to be extra Grand. Can someone say 'Taco Time.' The Event is open for everyone.

In addition to free food and activities, we will be raffling out great prizes. Prizes include Ray Ban and Dolce Gabbana Sunglasses, free lens upgrades such as Transitions Gen 8, polarized prescription lenses, 6 month supply of contact lenses, as well as giveaways from our local sponsors. There will also be a Cornhole competition for kids and for adults for the ultimate prize, that will be announced at the event for the kids. The ultimate prize for adults is $500 to be used for frames and lenses. The Cornhole Board is custom made for our Grand Opening, so bring your 'A' game.

As the school slowly calls your children back, bring them for one last great opportunity for them to socialize with others and have fun under the sun to cap off the summer. In addition to the Grand Opening, we will be a having free vision screening for kids age 5-17. Please register your children for the vision screening as there is limited space. All you have to do is just text 919-439-6014 with this info: Name of child, date of birth, your phone/ email and the message 'RSVP for Vision Screening.'

RSVP for the event is NOT required but will help with the head count. You can do so by contacting us on our website page or by clicking Contact Us - Eye Solutions.

The event will be held in the large yard in the amphitheater adjacent to the clinic parking lot. Please park on the spaces adjacent to the large retail center. Once you arrive, walk into the Eye Solutions clinic to register for the event.

Come Join the Fun August 7th 12-2!