As an optometrist, I see many patients complain of one or few symptoms of dry eyes. Dry eye syndrome is a chronic condition that has its flare ups and can have many causes, with each cause requiring its own line of treatment. It is not unusually to have more than one subtype of dry eyes. Meibomian gland dysfunction is the most common type of dry eyes out there. It causes a disruption of the normal mebum flow through the meibomian glands within the eyelids. Mebum is important to help prevent your tears from drying up too quickly. Symptoms occur once those meibomian glands become clogged. Although more likely to occur in warmer regions, it is prevalent everywhere especially in younger populations. Artificially tears are not sufficient to treat the condition. Often it requires warm compress and lid massage.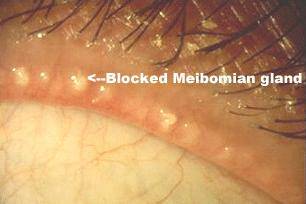 Previously, doctors used to tell their patients to place a potato in the microwave then place that potato on their eyelids in order to melt those hardened/clogged meibomian glands. I myself used tell patients that they can take a towel, warm it up and place on the eyelids followed by a lid massage technique that I demonstrated in the clinic. But both of those strategies are just inconvenient for daily use. Today, heat eye masks have replaced these techniques. Below are the top 5 products for patients suffering from meibomian gland dysfunction. Please hand wash eye masks after each use and dispose of them after 3 months; if you use regularly or 6 months if you use infrequently.
5. Heyedrate Eye Mask
This mask is made of flax seed, like all masks below, that absorb the heat. Simply place in the microwave for 20 seconds and place on eyes for 5 minutes. This is also a 2 in 1 mask therefore you can enjoy cool compress. Place in freezer for 2 hours then place on eyes for soothing comfort. The straps tend to wear out easily. Since there isn't too many flax seeds inside, it may not get as hot as some of its competitors. The company does do philanthropy, with each mask sold they promise to provide a free eye exam and glasses for someone in need. That way your dollar has greater impact. This is a 4 star product based on my review.
CHECK IT OUT, CLICK FOR HEYEDRATE EYE MASK
4. Aroma Seasoned Eye Mask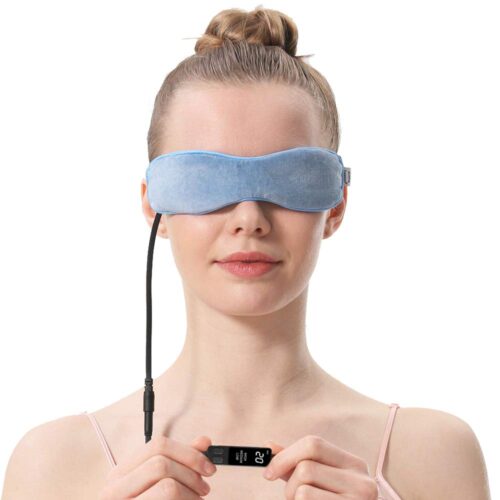 Technology will always continue to upgrade and adapt. This heat mask is great for on the go. It does not use a microwave but rather any USB port, including the one you charge your smartphone, to heat up. It has 3 settings of heat that is controlled with the tiny remote it provides. This mask does not get as hot as microwave masks. The size runs small 7.25 wide by 2 inches height, therefore it may not be a good choice for someone with a larger face. There is less padding near the nose so you may feel some extra heat in that area. Since it has an electronic component you cannot rinse it with water. Therefore, it's best to place a tissue between the mask and your eyes. Afterwards, simply wipe with water moistened towel. Aroma Seasoned is the name of the company and not to be confused, this specific product does not come scented. Overall, it is very convenient and an answer to those that travel and need a little heat for their dry eyes. This is a 4 star product based on my review.
CHECK IT OUT, CLICK FOR AROMA SEASONED EYE MASK
3. Kimkoo Eye Mask
Another great eye mask is the signature purple colored Kimkoo Eye Compress. This mask may require longer microwaving than others. Microwave for 30-50 seconds and place on eyes for 5 minutes. To wash, simply remove the cover, hand wash it and let it dry on its own. That is the great thing about this mask, by washing the cover without the flax seed bag inside it dries a lot faster. This is a 4 star product based on my review.
CHECK IT OUT, CLICK FOR KIMKOO EYE MASK
2. Thermalon Eye Mask
The Thermalon eye mask is a 2 in 1 mask. It can be a heat mask and a cold mask. To heat, place in microwave for 20 seconds then on eyes for 5 minutes. To cool, place in freezer for 2 hours. So whether you want to treat your meibomian gland dysfunction, as directed by your doctor, or if your eyes need that soothing relief after a long day at work, this is your mask. This does run large but that is a good problem to have. You may need to purchase two if you require longer heat treatment for more than 5 minutes. That is because it is recommended to wait one hour before re-microwaving. The second one can be set to use after the first without waiting an hour to re-heat the first mask. This is a 4.5 star product by my review.
CHECK IT OUT, CLICK FOR THERMALON EYE MASK
1) Bruder Eye Mask
This is the number one product I recommend for continued use. You simply microwave for 20 seconds and wear for 10 minutes. The goal is to get it hot but not hot enough to burn yourself. The mask heats up fast and provides longer duration of high heat. By providing hotter temperatures for longer duration, the oil in the meibomian glands are more likely to melt making it easier for them to be excreted. I just love the convenience of use and the ability to re-use while still being as effective. This is a very popular product with high quality. This is a 5 star product based on my review.
CHECK IT OUT, CLICK FOR BRUDER MASK
The above masks are helpful for flare ups for mild and moderate MGD. But they may not be sufficient for those with severe or longstanding unmanaged MGD. There are more aggressive therapies that work much better than those masks in a shorter period of time. Talk to your optometrist if you have signs or symptoms of MGD.
Disclamer: This article was written in a different magazine, with an affiliate program, by the same author but has been modified.